Are You "Down" With It?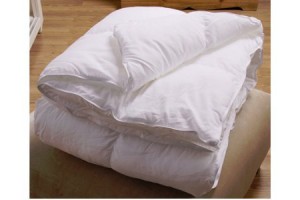 When it was time to replace the sofa that had been with me since my Houston days, through the New York years, and for the first years of my time in Tucson, I headed over to the local Crate and Barrel. I quickly found a sofa that had the desired casual-chic style and completed my purchase.
I headed home with a C & B catalog in my arms that I planned to peruse for some additional pieces to complete my new living room. First, I located my sofa in the catalog so that I might refer to it while considering other items. Instant horror! My "eco-friendly" sofa was hardly animal-friendly: all the cushions were stuffed with down feathers! These fluffy feathers are found underneath a bird's outer layer of feathers, and it's a very painful process to have them plucked.  Luckily, not only are the animal advocates requesting alternatives, but also the multitudes allergic to down (I'm part of this camp, too, by the way). There are enough of us out there that alternatives are often readily available… you just have to ask. I'm delighted to report that my local Crate and Barrel representative was more than happy to revise my order so that I received a sofa using synthetic cushion inserts instead of the feathers. Whew!
Taking a stroll from the living room into the bedroom, I'm also down-free when it comes to bedding. Because of my allergies, I've never been one for down pillows and comforters. I always have preferred the look and feel of quilts to comforters, and I've more recently become a huge fan of organic, all-natural bedding that's free of nasty pesticides and dyes. If you still prefer the feel of a comforter when you're getting ready to call it a night, a down-alternative comforter is another great option. See the web site for
Crate and Barrel
for some ideas; at
West Elm
, check out the organic cotton frayed-edge sheets.
Staying in a hotel that loads up each room with down pillows and bedding? Again, don't be afraid to ask!  Ask when you make the reservation, or when you first arrive, for the non-allergic synthetic alternatives. Maybe if enough of us start requesting replacements, hotels will get the message… and down-free rooms will become the biggest hit since non-smoking rooms.
Related posts: