Halloween Treats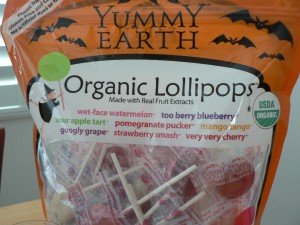 Getting ready for all those trick-or-treaters who will be knocking on your door soon? There are lots of great treat ideas that also are cruelty-free! I've been exploring the store shelves and the internet, looking into the best options. Most exciting, I've found Yummy Earth Lollipops.Yummy Earth not only refrains from animal testing, but it also avoids nasty ingredients like high fructose corn syrup and artificial colors.And their certified organic, vegan lollipops are more likely to be enjoyed by all the kids in the neighborhood, including those with allergies and diet restrictions – the pops are gluten-free, wheat-free, peanut-free and soy-free. Fabulous!
So how about the more traditional treats? Mini bags of pretzels remain a good and relatively healthy option. And here are some other suggestions about candy, taken from PetaKids.com:
Candy Treats:
·Airheads Taffy
·Blow Pops
·Dots
·Goldenberg's Peanut Chews
·Jolly Ranchers
·Mary Janes
·Now and Laters
·Pez
·Sour Patch Kids
·Lemonheads
·Sweet Tarts (my childhood Halloween fave)
·Twizzlers
Chocolate Treats:
For cruelty-free chocolate ideas, please see my previous piece, Chocolate: La Dolce Vita. I have yet to find some bite-size or "fun-size" organic chocolate treats for Halloween, but there are some chocolate products you definitely will want to avoid supporting with your consumer dollars until they change their animal-testing practices.
A new twist on "sticky and sweet"!
I have a friend who gives out stickers (cut out from a larger sheet) instead of candy. They may not be edible, but kids seem to enjoy them just as much!
Related posts: