When I think of wines, I think of the rolling hills of Tuscany. I envision the grapes on the vines, and then I imagine my Italian ancestors pouring generously and laughing heartily as they drink in the aroma as well as the tastes of the trebbiano, grechetto, and nebbiolo. What I don't think about are the ingredients that might find their way into the process of making the wine, ingredients that come and go before the wine makes it into the bottle and into my glass. Often, vintners use animal-derived products as clarifying agents: egg whites, casein, gelatin, isinglass and — in some countries other than the US and France — even blood from large mammals (gasp!). The good news is that, with the increased focus on organic options, many vintners are choosing to use bentonite (clay) in place of the animal-based agents. Many kosher wines also are animal-friendly, but not all — using egg whites or gelatin is acceptable because the agent is removed from the final product.
Unfortunately, it's precisely because the agents are removed from the final product that they are not listed on the label. So I've found some resources where you can look up your favorites to find out their status… and perhaps explore some wines and spirits that are new to you.
Barnivore: Look up wines by brand names; also lists beers and liquors.
Vegan Wine Guide: This site allows you to search by Type and Country.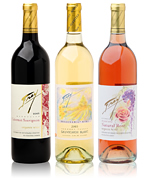 Online Retailers:
Vegan Sommelier
This site rocks. So much to choose from, and all vegan-friendly. A great place to browse to learn about all the alternatives… and to stock up for your next party or special occasion.
Update for 2013: Check out The Vegan Vine and also Benefit Wines, which is offering vegan-friendly wines to benefit Grey2KUSA — one of my favorite organizations, working tirelessly to end greyhound racing.
Related posts: