SPAritual for body bliss & nails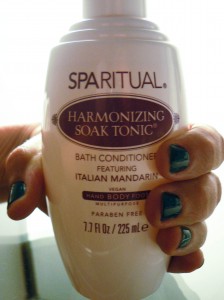 I was introduced to the all-vegan Sparitual line of bath, body, and nail care when the day spa I frequent started carrying its products. My first experience was the Look Inside Organic Moisturizing Lotion, which combines olive, sesame, and soybean oils; with shea butter added to this heavenly triumvirate, the lotion left my whole body oh-so-irresistible soft.  All of the bath and body products I've tried since that initial purchase have been as luxurious as a spa treatment, and so I like to have a few products on hand for whenever I decide to create a mini-spa day for myself at home.
My latest Sparituals indulgence is the Harmonizing Soak Tonic bath conditioner, which features Italian Mandarin.  I am blissful as I relax  and close my eyes, transporting myself back to an afternoon somewhere in southern Italy.  The  essential oil, in addition to inspiring my imagination, is supposed to balance the sacral chakra, located between the navel and the lower abdomen.  For those of you not familiar with chakra-talk, there are seven major energy centers in the subtle body — chakras.  The sacral chakra is a center of creativity and can also be the place of learning to let go.  On a more physical level, imbalances in the sacral chakra often manifest as lower back pain and sciatica.  So when my lower back is getting cranky on me — which it was last week — a bath with this stuff was just what I needed!  For more chakra-related products, check out the Sparituals web site.
Another highlight of this product line is the nail care.  I'm not nearly patient or steady enough to give myself manicures and pedicures on a regular basis, but if you are… Sparituals has it all.  To start with, the essentials: cuticle care, base coats, strengtheners, and top coats.  Eco-nail files and the eco-foot file are 100% biodegradable.  Then, there are all the fabulous nail colors to choose from.  Since I bring along my cruelty-free nail color when I go to the salon for my manicures and pedicures, I have a few Sparitual colors that are personal faves.  I love "Endless Possibilities,"  a dark dark brown-red that is perfect for the fall and winter seasons.  This coming holiday season, I'll be looking festive in "Kiss the Cook" red.  Right now, it's the time of year for lighter shades to give way to Autumn's earth tones.  But it's still feeling like summertime here in Tucson, so I'm keeping it playful and striking a compromise: this week, I'm showing off a deep, warm shade of blue by Sparitual called "Dreams Becoming Reality."
Related posts: