The new and improved BLT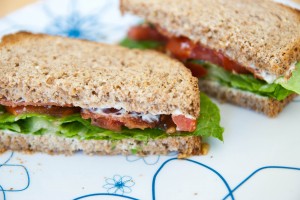 BLT (as in bacon, lettuce, and tomato) sandwiches are a Saturday favorite in my home.  Here's a cruelty-free version.  It's less greasy and so less likely to drag my energy down for the rest of the afternoon.  Also, the low calorie and fat content — especially when compared to a traditional BLT — makes this a healthy lunchtime choice.  As appealing as this sandwich is to the taste buds, it's equally appealing in terms of the waistline. Simple, quick, healthy, and delicious!
To build your own:
2 slices of Ezekial 4:9 Bread, lightly toasted
2 slices Smart Bacon
2 leaves of Romaine lettuce, or iceberg lettuce
1/2 tomato, thinly sliced
Vegenaise (my fave: Reduced Fat, made with Flaxseed and Olive Oil)
salt & pepper to taste
Bonus Tip!
Try using tempeh as the bacon substitute: I love the Smoky Tempeh Strips by Lightlife.  The first time I had a tempeh "BLT" was years ago in a jazzy little restaurant in Austin, Texas called Martin Brothers.  Although MB has since closed its doors, the tempeh BLT lives on!
*Some of you may be familiar with Morningstar Bacon, which is also quite tasty.  Just note that Morningstar "Veggie" Bacon is vegetarian, not vegan — the strips contain egg whites.
Related posts: