Mom's Lasagna (recipe)
As promised, here's the cruelty-free version of Mom's Lasagna that we're cooking up at home. Buon Appetito!
8 oz. lasagna noodles (9 noodles)
28 oz. can of crushed tomatoes with basil
a few sprigs of fresh thyme
6 cloves of garlic, minced or pressed
1 pkg. Smart Ground (Original flavor)
one tube (14 oz.) of Gimme Lean Ground Sausage
1 pkg. Daiya shredded "mozzarella" (the Daiya brand is worth searching for if you must — it melts like no other!)
Ricotta substitute*
"Parmesean" Vegan Grated Topping by Galaxy Foods
All the above ingredients are available at various grocery stores, including some more "mainstream" stores. If not at your usual local supermarket, try the nearest Whole Foods, Sunflower, or Sprouts.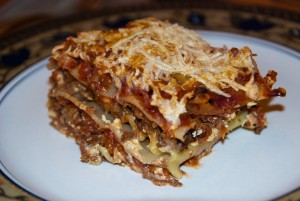 Directions:
Boil lasagna noodles according to directions and set aside.
Spray a skillet with olive oil cooking spray.  Cook the entire package (12 oz.) of Smart Ground and 1/4 tube of Gimme Lean Ground Sausage together, according to directions.   Add a couple of minced garlic cloves to this mixture when cooking, and then set aside.
Add thyme (sans stems!) and remaining 4 cloves of minced garlic to the can of crushed tomatoes: this is your sauce. Salt and fresh ground pepper to taste.
Preheat oven to 350 degrees.
Using an 8″ square pan, spread tomato sauce on the bottom and then layer with three lasagna noodles (you'll need to trim the noodles with scissors); the sides of the noodles will overlap slightly to make a nice seam.
Layer–

one-half of the ricotta mix
one third of the Daiya mozzarella
one half of Smart Ground/sausage mix (spread evenly)
sprinkle of Vegan Grated Topping
Pour on about 1/2 cup of the tomato sauce

Repeat the above process to create a second layer, starting with the three lasagna noodles.
Your third layer is your top layer, which does not use any Smart Ground/sausage or ricotta.  After you place the 3 noodles down, pour the remaining sauce on first and spread with the back of a tablespoon to create an even coating; then, add the remaining Daiya mozzarella and sprinkle generously with Vegan Grated Topping.
Place in the oven, center rack, uncovered, for 45 minutes.
Place under broiler for another 1-2 minutes, just long enough to let the top layer of mozzarella melt more thoroughly.
Although you can serve immediately, I advise you to let it sit for a while — about a half-hour; this lets the dish cool a bit and settle, so that it holds together better when you cut into individual pieces. Serves 6.
*Ricotta Substitute
I really like the roasted cauliflower ricotta that comes with the spinach lasagna recipe in Isa Moskowitz's newest cookbook, Appetite for Reduction. However, for this dish, I turned to her earlier book, Veganomicon. In it, she offers two recipes: Tofu Ricotta and (gasp of delight!) Cashew Ricotta. All three ricotta recipes are very easy to put together, and all are molto delicioso. For Mom's Lasagna, I've decided the most basic tofu ricotta is the closest to the original. It calls for only a handful of ingredients and takes less then 10 minutes to make. You'll be amazed at how smooth and creamy and flavorful this ricotta substitute is! I have a feeling I'll be using the Cashew Ricotta when I whip up some stuffed shells in the near future…
Related posts: