A Visit to Equine Voices Rescue & Sanctuary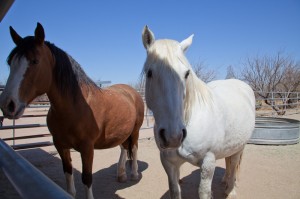 A couple of weeks ago, members of the Student Animal Legal Defense Fund and friends (including my nephew Nicholas!) made the trip to meet some amazing horses at the Equine Voices Rescue and Sanctuary here in Tucson. Since 2004, Equine Voices has saved the lives of hundreds of horses — mainly mares and foals from the Premarin industry. These horses, for the purpose of collecting their urine in order to manufacture the hormone replacement drug (Pregnant Mares' Urine), are subjected to horrible, stressful conditions and abuses; and each time the mares give birth, their foals are quickly sold off  to slaughter. Thankfully, there has been a decline in the use of Premarin; women are now seeking alternatives, including natural remedies. If you are taking Premarin or considering hormone replacement therapy, I urge you to speak to your doctor about suitable cruelty-free alternatives.
Recently, Equine Voices has expanded its mission to include rescuing horses from abuse, neglect, and starvation. During these tough economic times, there has been an increasing problem of horse abandonment. In these cases, criminal prosecution under the state's animal cruelty statute is a possibility, and the Tucson Animal Cruelty Task Force is hard at work rescuing these horses and enforcing the law. Equine Voices also rescues horses from the illegal drug trade: horses, weighed down with packages of drugs, are forced to journey across the border from Mexico, then left in the desert to die.
In 2010, Equine Voices became the first Equine Sanctuary in the State of Arizona and the third in the country to receive the Global Federation of Animal Sanctuaries' accreditation. Thanks to Karen Pomroy, founder of Equine Voices, for taking the time to share a wonderful morning with us!
Related posts: