Our student chapter of the Student Animal Legal Defense Fund invited any law students who have been writing papers and law review notes on animal-related topics to share their work. Their presentations at our meeting last week were proof that Animal Law is both diverse and thriving in the community.
Here are some of the topics covered (a few by yours truly!), just to give you an idea of the kinds of things the field of Animal Law addresses:
Non-Economic Damages in Pet Loss Cases
The Tension between First Amendment Freedom of Speech Protections and Animal Crush Video Legislation
The Difficulties in Prosecuting Cruelty to Agricultural Animals
Regulations of Barnyard Chickens
Growing Meat in Petri Dishes: Factory Farming, Human Health Risks, and Alternatives for the Future
Chimpanzees in Research: Before, During, and After Experimental Use
The Prosecution of Animal Hoarders
Constitutional Concerns About the The Animal Enterprises Terrorism Act (AETA)
Protecting Companion Animals: Inclusion in Domestic Violence Protection Orders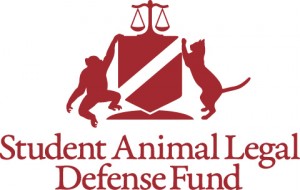 If you're currently a law student, I hope this will inspire you to consider the area of Animal Law as an area of study, if not a career path.  Here at the University of Arizona, we're very excited that an Animal Law class has been added to the course offerings for next semester. If your school doesn't (yet) offer a class, I encourage you to start a student petition and talk to the faculty about it. It worked for us!
For practicing lawyers and future lawyers alike, Animal Law at the very least can present some opportunities for pro bono work. Practicing attorneys can become members of the Animal Legal Defense Fund and offer their services for cases that come up in their jurisdictions.
What a great way to make a difference in the lives of so many animals who need our help!
Related posts: