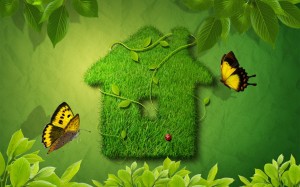 This time last year, I'd just arrived in Washington D.C. to work as a legal intern at Compassion Over Killing, an organization dedicated to ending cruelty towards animals in agriculture. Right now, I'm in Portland, Oregon at Lewis & Clark Law School taking a class focused on Farmed Animals. Many people these days talk about eating responsibly, sustainably, and equate that with becoming a "locavore." But the fact is, we can do more for animals and for the environment by going only one day each week without meat and dairy than by switching to a totally local diet.
Here are a few facts my COK friends have gathered relating to the environmental impact of eating meat and dairy:
A single dairy cow produces approximately 120 pounds of wet manure per day, which is the equivalent to that of 20-40 humans. (EPA)
70% of the grain grown and 50% of the water consumed in the United States are used by the meat industry. (Audobon Society)
On average, 990 liters of water are required to produce just one liter of milk. (United Nations)
More than 260 million acres of U.S. forest have been cleared to grow grain for livestock. (Greenpeace)
Farmed animals produce an estimated 1.4 billion tons of fecal waste each year. Much of which pollutes land and water.
Antibiotics & Animals
Wired.com reported in December 2010 that 80% of the antibiotics sold in the United States are used for animals in agriculture!  These antibiotic drugs inevitably are passed on through the animals' waste into the water and soil. And, of course, anyone eating these animals is ingesting whatever they have ingested. Ugh.
Factory Farming & Global Warming
For a short, super-informative read, check out this 12-page paper (pdf online, free) by David Cassuto, The CAFO Hothouse: Climate Change, Industrial Agriculture, and the Law. In The New Yorker magazine just last month, Test-Tube Burgers by Michael Specter considered the impact of an ever-increasing demand for meat on animals, humans, and the environment.
Factory Farming & Water
In addition to the problem of water pollution by the massive waste produced by factory farms, here's something from the Cassuto piece: it takes 23 gallons of water to produce one pound of tomatoes; in contrast, it takes 5,214 gallons of water to produce one pound of beef! At a time when the global fresh water crisis is finally starting to register among the general public, this statistic weighs just as heavily as any about green-house gas emissions and global warming. I remember the expansive tomato gardens of the older Italian generation I grew up around. There is nothing quite like the smell of the rich soil mixing with the vine-ripe tomatoes, and basil growing nearby. In a way, these backyard gardeners, including Grandma Discorfano, were ahead of their time.
In sum, in the interests of the animals, humans, and our environment, a plant-based diet is the way to go. If a plant-based diet is new to you, give yourself some time to ramp up if you need it. An easy way to start is by getting on board with Meatless Mondays. Whether you're eating spaghetti with marinara sauce or doing more creative things with tofu or tempeh, it's easy enough to have three meals without meat or dairy. Just one day a week can make — literally — a world of difference. And once you're comfortable with once a week, you can try eating this way twice each week, then three…
Related posts: