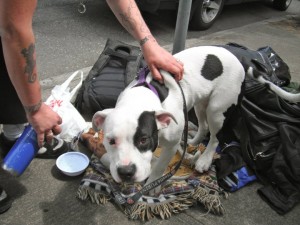 There are so many displays of compassion that illuminate our world, countering all the instances of abuse, neglect, and inequity. Portland Animal Welfare (PAW) Team is among these shining lights — a non-profit organization that helps the homeless people of Portland, Oregon by helping to make sure their companion animals are healthy and fed. Through its monthly clinics, PAW Team enables a group of veterinarians to offer services such as basic health exams and vaccinations; volunteers hand out food and supplies and coupons for spay/neuter services. Animal guardians sometimes line up for hours beforehand, just to make sure their four-legged loved ones receive the care they need. I just learned about this organization from my friend Nicole who is volunteering with them; and, as it turns out, so is another of my Portland friends and recent ALDF scholarship winner (Congratulations, Laura!).
I know that some might question whether homeless people should have companion animals at all. It's a valid concern, but there's the fact that many of the people had their companion animals before they became homeless, especially in these hard economic times. Can you imagine if a person were forced to lose his or her companion animal, too? Sometimes, Fido is the only thing a person has left. Also, with millions of sheltered animals euthanized each year in the United States, the last place we want these animals to go en masse is the local shelter, provided they're getting the basic necessary care. In addition, the situations of homeless women raise at least a couple of other issues: first, a dog may be a homeless woman's only way of staying safe, either on the streets or in shelters where assaults or theft are not uncommon; second, in cases of women who flee their homes because of domestic abuse, they often take their companion animals with them because the animals otherwise would become the target of retaliation by the abusing partner.
While I was traveling around Nepal several years ago, I was struck by the number of stray, sick dogs. I was heartened to learn afterwards of an organization in Katmandu, Street Dog Care, comprised of two veterinarians and volunteers that were going out each week to offer these dogs medical care. Now, here's a a similar coordinated effort by veterinarians in the U.S. and, in Portland, the organization is helping animals and people. WIN-WIN!
I applaud PAW Team! I'm looking around now to see what other cities, if any, have similar initiatives going on. If there isn't one in New York City yet, don't be surprised if you hear about a "new project" of my own once I'm back home again about a year from now.
Related posts: