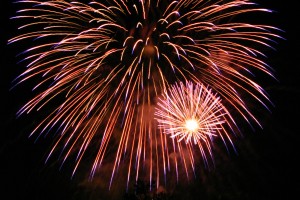 The Fourth of July is right around the corner! For those of us with nonhuman family members, taking a few simple steps can make the holiday a lot easier on them and also keep them safe.
Some tips to keep in mind this holiday:
Better to keep your companion animals at home (a familiar environment) and indoors.
Close all doors and windows.
Turn on the television or put some background music on softly to muffle sounds outside.
If you're in an area with fancy, flashy light-shows happening, also close the curtains/blinds.
Distract your animals if you're able to, using their favorite toys or games.
Please! Make sure your animals are microchipped or, at the very least, have their collars with tags on. Sometimes frightened animals will run away. And, especially if you're hosting an event, it will be even easier for them to slip away unnoticed. About a month ago, my husband Seth and I made several roadside rescues: five dogs and one cat in as many weeks. Had it not been for accurate ID tags, we would not have been able to reunite the lost animals with their families.
If you have a backyard pool, please watch your animals carefully throughout the day's festivities. A good idea for the whole summer season: train your pups so that they know the way out of the pool, just in case they ever fall in when no one is around.
Homeopathic remedies
Although I haven't tried it with our own pups, Bach's Rescue Remedy is a product I've heard several people swear by, and I've seen it on the shelf at the Whole Foods market. I've used several products by Azmira Holistic Care and been pleased. Among its Flower Essences, Azmira offers Fear drops geared to counter specific instances that might overwhelm a dog — namely, fireworks and thunderstorms. Currently in our pantry, we have the supplement Relax, a stress and tension supplement for dogs made by Dr. Harveys. However, the Relax supplement is more of an ongoing approach to calm a dog, rather than a remedy for a specific situation. Feel free to ask your veterinarian for other suggestions if your companion animal has in the past exhibited some serious fireworks fear.
Related posts: