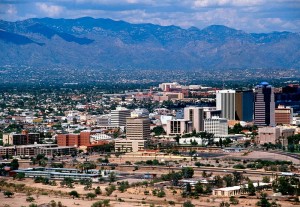 As much as I love cooking and entertaining at home, I also love dining out in Tucson. Although Tucson doesn't exactly have a cornucopia of vegan restaurants like some other cities, I've found many that have vegan-friendly options on the menu, and others that are happy to accommodate when asked. Whether it's for drinks and appetizers at a local resort, or a festive dinner with some friends, Tucson has lots of places to enjoy. Here are some of my favorite familiar haunts:
Sweets:
Village Bakehouse
Makes vegan wedding cakes and birthday cakes/cupcakes to order.
Ambrosia Cakes
Creative vegan specialty cakes for any event. I've also ordered mini cupcakes from them for a SALDF cupcake extravaganza at the law school.
Red Velvet Cupcakery
I first had a Red Velvet cupcake in D.C. It's not a franchise, but the owner's dad lives here in Tucson, which makes me very lucky. The Tucson location is on University Boulevard, right outside the campus gates. Just recently, RV recently added a vegan White Velvet cupcake to its repertoire, and I have only one word for that: wow.
Related posts: