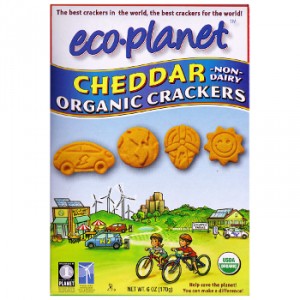 My first taste of  Eco Planet crackers was during the summer while I was studying at Lewis & Clark Law School in Portland. The non-dairy cheddar flavored crackers were something to get really excited about, because I hadn't yet found anything close to "Goldfish" crackers or "Cheez-Its" — both popular snacks. Eco Planet crackers (or the pretzels, if you were a pretzel Goldfish person) definitely fit the bill! And I love that these bite-sized crackers come in such fun, eco-conscious shapes: windmills, hybrid cars, planet earth, and smiling suns.
In addition, Eco Planet makes oatmeal and vanilla cookies (also in fun bite-sized shapes) for those of you who prefer "sweet" to "salty" in your snacks. The kid-size boxes of cookies come in vanilla and cinnamon flavors. A great snack to pack for the next school field trip!
And whether you've got a handful of crackers or cookies by Eco Planet, your snack will be made with organic ingredients, low in sodium, and made with no saturated fats. So, Eco Planet makes it easy to indulge while, at the same time, making a relatively healthy snack choice.
My local Whole Foods Market has yet to keep these crackers in stock, so I'll keep putting in requests until they do!
Related posts: