It may not be the best season for snow this year (yet), but even when the slopes are more "mashed and gravy," playtime on skis is always a great time. During our post-holiday getaway to Tahoe, we had as much fun exploring the surrounding area as we did skiing. Here are some wonderful dining options for those of you who will be visiting the Tahoe area sometime soon:
Thai Kitchen (Tahoe City)
We stopped here for lunch on our way into town from Reno Airport. Seth had the Pad Thai with vegetables and tofu, asking that it be made without egg; I had the Pad Pam Rum
Mit, mixed vegetables with brown rice.
Mamasake (Village at Squaw)
Miso soup to warm you up after a day on the slopes. Vegetable Bowls of  julienne vegetables with a yuzu-soy sauce served over red beans and rice. Later this week, I'll tell you all about the sushi rolls that rocked our world!
Pianeta (Truckee)
Located in the heart of Truckee's historic downtown, about ten minutes from the slopes. This bustling dining spot is, at the same time, intimate and festive. And I love the upstairs area with its mix of farmhouse tables that allow small groups as well as larger crowds to enjoy a meal together. Seth started with a tomato bisque, while I opted for the insalata special of the day, a wonderful combination of arugula and belgian endive with mandarin slices, roasted red peppers, and cucumbers with a balsamic vinaigrette. We both enjoyed this pasta dish for our main course:
Wolfdale's Cuisine Unique (Tahoe City)
For a romantic, inspired dinner, this is a winner. The Zen Plate comes with vegetables, lentils, tofu, and butternut mashed potatoes. Or, for something a little more casual, there's also the Portabello mushroom burger that you can order with truffle fries.
Fireside Pizza Company (Village at Squaw)
Seth and I split a Thai Red Curry pizza topped with bell peppers, red onion, fresh tomato, basil, and a few squeezes of fresh lime juice. Instead of the chicken and marscapone cheese the Thai Pizza usually comes with, the kitchen loaded up our pie with mushroom slices and arugula. We also got adventurous, trying out the gluten-free crust. Awesome!
Six Peaks Grille (Resort at Squaw Creek)
Located at a resort that is quite the idyllic winter wonderland, Six Peaks may not seem particularly veg-friendly at first glance. However, the menu offers a host of "extras" that makes it easy to request a vegan plate from the chef: forest mushrooms, asparagus, spinach, and roasted potatoes. Simple and simply divine. Another option: the Pappardelle Pasta with peppers, white asparagus, and tomatoes (senza panacetta, per piacere!)
Soupa (Village at Squaw)
Fresh homemade soups and yummy quinoa bowls. Soupa relies on seasonal, organic ingredients, and daily soup offerings  include both vegan and vegetarian options. I had the tomato soup and Seth had the butternut squash, each served with a slice of freshly made bread. The quinoa bowls are made with red (Incan) quinoa. If it's on the daily menu when you're there, try the Thai Veggie quinoa bowl, which comes with spinach, tomato, cucumber, peanut sauce, and cilantro.
Plumpjack (Village at Squaw)
This hotel and restaurant dates back to when the 1960 Olympics were held at Squaw Valley. The breakfast buffet is made up of mostly non-veg stuff, so we ordered oatmeal a la carte, which was served with a nice variety of dried fruit and some soy milk on the side. Along with some coffee and orange juice, it was just what we needed to get the day off to a great start.
Wildflour Baking Company (Village at Squaw)
I enjoyed a freshly made bagel with sunflower butter, and Seth had the steel-cut oatmeal, served with nuts and dark chocolate. Wildflour also serves Scharffen Berger hot cocoa,which they will make with soy milk. While we didn't indulge in the hot cocoa, we did pick up other treats — dog biscuits to bring back home to Otis and Galileo!
Uncorked (Village at Squaw)
The perfect place for après ski, if a glass of vino is your thing (like me!). Walls lined with wine bottles and crates along the floor… with votive candles along the bar and just a few tables. Sparse, rustic contemporary at its finest. Tyler was a cheery Aussie who, when asked, presented us with three vegan-friendly reds and whites (tasting of three wines, $10).
On the mountain…
The slope-side options seem to be getting better every season — hummus wraps, vegetable soup, and some pretty terrific salads. This past week, grabbing a bite to eat in
between runs also included black bean burgers and vegetarian chili. Clif and Luna bars were a nice mid-afternoon energizer, available for purchase at the cafeterias.
Bonus Tip!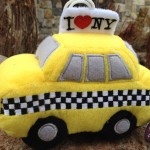 Squaw Valley is one of the most fido friendly ski areas I've ever encountered. Happy wagging tails everywhere. So it was hardly a surprise to find that the Village at Squaw has a store devoted to our four-legged friends, canine and feline. For those of us with companion animals, stopping by Squaw Dogs is a must. Everything from fashion and accessories to fun treats to bring home to our little ones. Since our five year-old Galileo still loves to get new toys, we picked up a little NYC Taxi for him — already getting ready for the big move to the city coming up later this year! Also, check out the other Squaw Dogs in this neighborhood, a team of canines and humans dedicated to avalanche rescue and education.
Related posts: