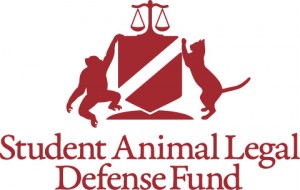 In the summer of 2009, just before starting at the James E. Rogers College of Law at the University of Arizona, I contacted the Animal Legal Defense Fund to find out how I might get involved and help generate interest on campus. The ALDF staff connected me with a third-year law student and, together, we took the necessary first steps towards organizing a student chapter. By my 3L year, we had successfully petitioned and worked with the faculty to have an Animal Law class offered in the fall semester. We've come a long way!
Over the past three years, I have been so inspired by my classmates, watching them get excited and more involved in animal-related efforts ranging from those focused on farmed animals to companion animals. In addition to successfully petitioning for the Animal Law class, here are some of the highlights from my time on campus:
Guest speakers such as Mike Duffey (Animal Cruelty Task Force of Southern Arizona); Cheryl Leahy (Compassion Over Killing); Tucson attorney Nikia Gray, discussing her efforts on behalf of elephants at Reid Park Zoo; Phil Brown (Animals & Home Owners' Associations); and John R. Becker (Pet Estate Planning)
Pet toy drives for Hope Animal Shelter, Tucson's only no-kill shelter
Presentations by students about their own animal-related papers/notes
Film screenings: Got the facts on Milk? and Mine)
Tabling in the main lobby with Animal Law materials (and free vegan cupcakes!)
Happy hours & potlucks with members of the State Bar of Arizona's Animal Law Section
Sending two students this year to the National Animal Law Competition
Students attending the annual Animal Law Conference at Lewis & Clark
K-9 unit demonstration of explosive detection by University of Arizona's Police Department
Cereal buffets with nondairy alternatives (great fundraisers!)
Today is the last meeting of the school year. I'm just a few papers and an exam away from graduation day; and today the 3L students will officially pass the torch to those students who will continue to make the SALDF chapter and Animal Law issues a part of the law school community.
A special thank you to those who have served on the board of our student chapter, taking leadership positions to get the chapter going and growing. From Day One, the student chapter has been a team effort. And, as the 3Ls leave school to follow our individual paths, I am most grateful to know that my SALDF friends and I will always have this connection with each other. Finally, thank you to our faculty sponsor, Shaun Esposito, and all the faculty who have been so supportive of the student organization.
For Law Students
Interested in creating a student chapter of the Animal Legal Defense Fund at your law school? Check out the Student Animal Legal Defense Fund site for all the details and support you need!
Related posts: