New Fashion Finds! Brave GentleMan & Forgotten Souls
Here are a couple of recent finds in the fashion department that make choosing cruelty-free easy, fun — and stylish!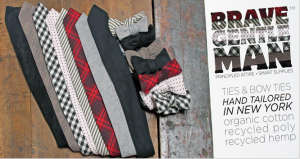 Brave Gentleman 
For all the sexy vegan men out there looking for fashions that express their personal style as well as their ethics: you need to know about Brave GentleMan.  New York-based designer Joshua Katcher launched the online mens shop in 2010; it offers vegan fashion and accessories, including cruelty-free custom made suits. Although there's lots for the vegan man — and for us girls to buy for our vegan men – I couldn't resist buying a Houndstooth Plaid Tie for myself, to wear every once in a while for an Annie Hall-inspired look. The vegan ties are made with organic cotton and recycled hemp, and stiffened with a process that uses recycled plastic bottles. Bow tie designs also are available, if that's more your style.
Bonus Tip!
Check out Katcher's site, The Discerning Brute – "fashion, food & etiquette for the ethically handsome man."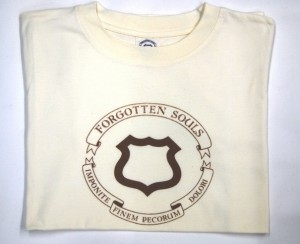 Forgotten Souls Organic, Ethical Clothing
A few Forgotten Souls organic tee shirts came as part of the Candle 79 gift bag that I won at  the silent auction following The Genesis Awards.  These super-soft tees are made from 100% herbal dyed organic cotton, and the organization uses sustainable methods in all aspects of production — from the water used in the dying process to the biodegradable bags used in packaging. What makes wearing FS a win-win: part of the profits go to help animals worldwide. Since its launch in August 2010, Forgotten Souls already has donated $12,000 to worthy causes such as helping street animals through the Bali Street Dog Fund and protecting Australia's wildlife through the Wombat Awareness Organisation.
Related posts: