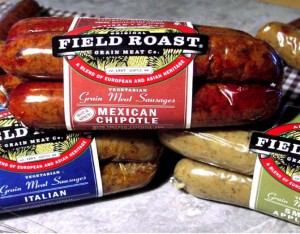 Most of the time, my vegan diet consists of whole foods — fruits, vegetables, and grains. Protein comes from quinoa, nuts, and legumes. Mock meats are reserved for special occasions, and I seldom go for the soy-based alternatives.
But how about a sausage-and-peppers sandwich like the ones at the San Gennaro Festival? Or a hot dog when we're watching a ball game? Field Roast sausages and frankfurters make it possible to enjoy some traditional food without any animals having to suffer for it.
The grain meat sausages are soy-free (yay!), comprised of fresh vegetables like eggplant, gold potatoes, onions, and garlic. As with any sausage, however, it all comes down to the spices and seasoning — and Field Roast gets it right. The sausages come in three flavors:
Italian: features fresh eggplant seasoned with fennel, red wine, garlic and sweet peppers
Mexican Chipotle: smoked Chipotle peppers, Chili de Arbol peppers, fresh chopped garlic, sweet onions seasoned with cumin seed and oregano
Smoked Apple Sage: savory blend of apples and sage; gold potatoes with a hint of hickory smoke
And for baseball season? Field Roast Frankfurters are by far the best vegan dogs I've had. Whether you're a mustard and sauerkraut girl like me, or prefer relish or jalapenos (my husband's favorite fixin'), these hot dogs are my fave.
I buy our Field Roast at the local Whole Foods and Sprouts markets, but you can enter your zip code on the Field Roast web site to find where to buy.
* * * * * * * * * * * *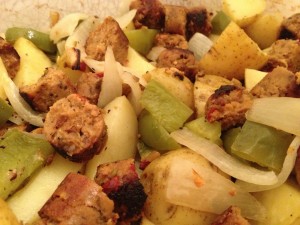 That's Italian! Sausage, Potatoes, Peppers & Onions
Last night, I treated us to a veganized version of a quick but delicious dinner my mom used to make. Enjoy!
Ingredients:
4 Italian Field Roast sausages
4-5 gold potatoes
1-2 green peppers
1 medium yellow onion
1 tablespoon extra virgin olive oil
Directions:
Preheat oven to 375 degrees.
Slice potatoes into quarters and place in a large pot with water. Bring to a boil, and boil for only about 3 minutes (don't let the potatoes get too soft!)
Slice peppers & onions and place in a oven-safe deep dish. Add potatoes. Drizzle with olive oil and toss mixture. Place on middle rack of oven, uncovered, and bake for 40-45 minutes.
When the mix in the oven is almost done, cook the Field Roast sausages on the stove top according to directions. We use a little olive oil in a skillet, moving the sausages around so they don't burn. Browning the sausages will take 3-4 minutes. Once done, slice the sausages into small discs. Actually, I cut up the sausages using kitchen scissors — makes it easy to handle the hot sausages and keeps them from crumbling.
Add sausage pieces to the mix. Toss and serve immediately.
Related posts: