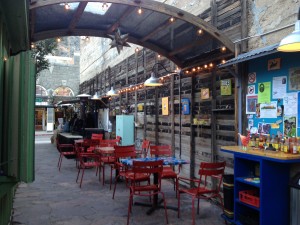 After an afternoon in Tombstone, we (husband, parents, nephew, and I) took the short ride to Bisbee before heading back to Tucson. Bisbee has a rich history dating back to the late 1800s as a mining mecca; these days, charming houses line the edges of the Mule Mountains and various shops and galleries are nestled along its narrow and winding streets, creating a unique artistic community that has a bit of European flair. Although we didn't have much time for shopping, we made a point of stopping in at Bisbee's vegan Mexican restaurant, Poco.
The restaurant  is tucked away in a little alley right off of the town's Main Street. Brightly colored tables and white lights strewn overhead, the atmosphere is festive but intimate enough to be the setting for a perfect romantic dinner. In our case, it proved to be just as perfect for a little late-day noshing. Although it was a beautiful day for patio dining, we stayed inside (just as colorful and cozy), where we enjoyed chatting with owners Kelly and Emily in between bites.
The nachos were sublime: the melted cheese was so creamy — my mom (non-vegan) gave the dish a 10 out of 10. My husband Seth and I also split a burrito. Poco uses Beyond Meat as its chicken substitute, which is beyond amazing, but we opted for something totally new to us — a Brussels Sprouts burrito. The roasted sprouts had a slightly smoky flavor thanks to the chipotle aioli — what a treat!
And Kelly and Emily were sweet enough to send us home with a scrumptious organic, vegan chocolate cupcake. Back in the car, my six year-old nephew Nicky looked at the container with the cupcake sitting on my lap: "Aunt Sharon, organic is vegan?"
I explained to Nicky in simple terms how organic has more to do with chemicals and pesticides than animal welfare; and that, although on organic farms the animals may fare better than those subjected to factory farming, in the end those animals too will be slaughtered for food. Nicky's eyes lit up as it came together for him: "Oh! I get it! So… the BEST is when something is organic AND vegan!" So thanks, Poco ladies, for your part in making the cupcake-inspired conversation happen. It's the most wonderful thing to see just how curious, thoughtful, and compassionate a child can be. The next generation of animal advocates already in bloom.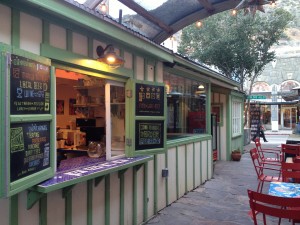 Poco
15 Main St
Bisbee, AZ 85603
(520) 432-3733
Related posts: