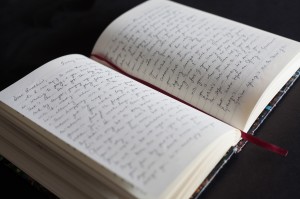 "What's your book about?"
I'm not surprised when I often see the friendly curiosity in a stranger's face change to puzzlement. Although many people have opened up to me about their own losses – and not just over companion animals, but humans, too – I realize that a collection of forty-seven letters to a beagle may seem, at best, a bit maudlin and, at worst, rather obsessive.
True, when I was writing the a daily letter to Pushkin during the season of Lent, which began just a few weeks after his passing, I didn't intend to share them – there was no intention for a "story" to emerge as the days went by. I read somewhere recently that people who are grieving naturally will lean on ritual to help them through it. Especially in the beginning, when the grief is at its greatest intensity. Writing a letter each day was just one of several routines that I instantly set up to give myself structure, to buttress myself against the quicksand of grief that could so easily swallow up a person. I was willing to let myself have the feelings, but I also was determined not to get stuck in them.
Again, a person may ask, "Over a beagle?"
First, I will unapologetically answer that a companion animal is a family member, just like a human member. Even though we know the lifespan of a beagle is 12-15 years — that he will not outlive us as a human child would — the heart cannot be constrained by what the mind knows to be true. Anyone with a companion animal knows that, in exchange for the incredible bond we will have with our four-legged friends and fur children for as long as we are entrusted with them, we are setting ourselves up for a devastating loss. The ever-growing collection of letters that others have written to their own companion animals on the Letters To Pushkin web site is a testament to the role companion animals play in our families and their lasting presence in our lives.
Beyond expressing this connection with animals, however, my own collection of letters became something else. As my first experience ever with the loss of a loved one, the loss of Pushkin became the impetus for a deeply personal story that does, in fact, emerge from the handwritten pages.
I was well-educated and well-traveled by the time Pushkin became seriously ill. I'd lived my life up to that point in such a way that I'd been exposed to many different approaches to life and diverse belief systems. I had my own ideas about life and death that were an amalgamation of things I'd read and encountered. And yet, my intellectualized understanding left me utterly unprepared for loss when it finally happened to me. Bereft. A simple two-syllable word now pressed on my heart with all the weight of the world. There were moments when I couldn't breathe, it was so heavy.
The loss of Pushkin created for me a crisis of faith. This, in turn, also left me desperately searching for a sense of purpose: What was the point of this life and making connections with others, only to have it all ripped away from us in an instant? The search for meaning, then, happened on both an abstract and a practical level. What comes after this? But also, what to do next while I'm still here?
So the letters, while containing the emotional swings one would expect from someone who is grieving, more closely resemble an ongoing conversation with a friend. Sometimes relating the day-to-day happenings that may or may not be of great significance; sometimes talking about family matters; sometimes discussing things I've read or seen that I think may hold some kernel of wisdom worth considering. Sometimes the letters reflect a decision-making process, whether it's about selecting a memorial bench in NYC's Riverside Park or my decision to go to law school to focus on animal law. By Easter Sunday, the loss is still palpable, but a new outlook is beginning to take shape and, with it, new directions.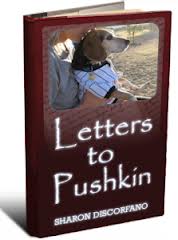 Thus, letter by letter, the collection documents my personal healing process — and it's very evident that this process is not a smooth, linear ride. Moments of peaceful reflection give way to irritation; but these moment, thankfully, are just as fleeting. The collection also tells the story of a lasting love and friendship, which circumstances have forced to evolve. And, finally, it is a story about hope. Although the waters of my faith, admittedly, are still muddy – I do not claim to have arrived at any grand certainty about the meaning of life and what comes next – it is a story about choosing to hope each day that there is something beyond the explanation of a rational mind.
I once held Pushkin at the shore of the Pacific. I held him in my arms and looked with him out at the horizon. I talked to him about how expansive the universe was, and how we would all someday once again be particles of energy flying all together in the universe. And, in that way, we would always be together. But, as I explained to a friend shortly after Pushkin's passing, as soon as I lost him, I no longer felt comfort in this perspective. I wanted with every fiber of my being to be wrong.  Because what I want – whether it is with Pushkin or any other loved one I will lose in this lifetime – is just enough other-ness to be able to wrap my arms around him again someday and tell him I love him.
So, yes, my book is about a beagle. It's about our bond, and the grief I experienced over his loss. It's about companion animals — and, furthermore, about all animals on this planet as living, sentient beings. But it's also very much about loss and grieving in general, even when the loss comes in the shape of something other than a dog or cat or horse. It can be the loss of a human loved one. It can even be the loss of something else in our lives (a job, a relationship) that has somehow derailed us or caused us to question what we were doing in the first place.
Loss is a part of life. But life, so often, is about what we do with that loss. For me, this particular experience of loss sent me searching, reaching; and it ultimately renewed me with an even greater sense of purpose. The loss of Pushkin caused me to look inward as much as it caused me to look out to the world for possible answers. It compelled me to lift my gaze to the sky, wondering about a world larger than this one, seeking revelation. And this is what came of it: in my efforts to embrace the notion of an existence beyond the boundaries of the world as we know it, I have never felt more connected to all the living things right here all around me.
This is the journey I share through my letters to Pushkin. And, indeed, how remarkable is that precious beagle who first set me on the path.
To read more about Letters To Pushkin, what other people are saying about the book, or to order your copy, please visit letterstopushkin.com/book.
Related posts: