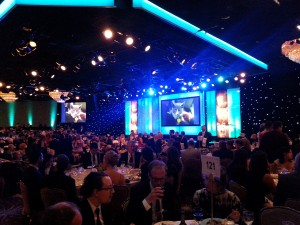 This past weekend, I was in Los Angeles to attend The 27th Genesis Awards held at The Beverly Hilton. Each year, The Humane Society of the United States hosts a star-studded event that recognizes the contributions by major news and entertainment media in raising public awareness about animal issues. Proceeds from this year's gala benefited three of HSUS's campaigns: Pets for Life, Farm Animal Protection, and Chimps Deserve Better.
Saturday night's program was hosted by Carrie Ann Inaba of "Dancing with the Stars." I was at the awards last year when she hosted for the first time; once again, she did a fantastic job. The evening began with cocktails before sitting down to a 3-course vegan meal, followed by the awards show. Celebrity presenters included Wendie Malick, Pauley Perrette, Charlotte Ross, Kaley Cuoco, Owain Yeoman, Hal Sparks, and Michael Vartan.
All of the nominees deserve a standing ovation for their work on behalf of animals. Here's a list of some of the night's winners:
TV Documentary
Ivory Wars – Discovery Channel
Dramatic Series
Harry's Law – "Gorilla My Dreams" episode – NBC
Reality Series
Wild Justice – Nat Geo Channel
National News
ABC World News, Diane Sawyer – downer cow video
Print Magazine
National Geographic – "Rhino Wars" by Peter Gwinz; "Cheetahs on the Edge" by Roff Smith; "Ivory Worship" by Bryan Christy
Columnist
Roy Exum, The Chattanoogan.com – multiple part series on Tennessee Walking Horse soaring
The Wyler Award & The Corporate Award
Pop star Ke$ha received this year's Wyler Award, given each year to a celebrity or public figure who has raised awareness of animal issues via the media. As the Humane Society International's first Global Ambassador for Animals, Ke$ha has spread the word about street dogs, trophy hunting of endangered lions, shark-finning, Canada's commercial seal slaughter, dogfighting, and cruelty-free cosmetics. She also features a different animal issue each month on her web site and urges her fan base to take action for animals.

This year introduced a new award, The HSUS Corporate Award, which was given to Lush Cosmetics, for creating handmade products with all-vegetarian ingredients and adhering to a "no animal testing" policy. With its ingredients and packaging, LUSH creates products that also have a minimal impact on the environment and comply with high labor standards. Furthermore, the company exemplifies corporate responsibility in its activism, as it engages both consumers and legislators in advancing animal protection, environmental, and human rights causes.
Silent Auction & After-Party
In addition to dinner and the show, there's also a silent auction and a high-energy after-party. The auction is a smorgasbord of cruelty-free products, beautiful artwork, travel getaways, and gift certificates. Last year, I walked away with a gift bag by one of my favorite NYC restaurants, Candle 79. So the evening goes: make a bid or two, grab a drink, and mingle. There are plenty of celebrities to chat with, but everyone in the room — in his or her own way supporting the animals — is truly spotlight worthy. It's a wonderful and uplifting night from beginning to end.
Pushkin in the Program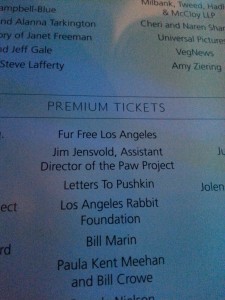 Extra special for me about this event: Letters To Pushkin listed in the program among the supporters of the evening's event. As most of you know, letterstopushkin.com is a free web site I created with the help of my tech-wizard husband, Seth. Visitors are encouraged to use letter-writing as a means of coping with the loss of a companion animal. The site was inspired by my own letter-writing experience after the loss of our beloved beagle, Pushkin. I wrote a letter to Pushkin each day during the season of Lent, which began just a few weeks after his passing.
The forty-seven letters that make up my book Letters To Pushkin document my personal healing process; out of the written pages emerges a story all its own of new directions and hope. It's an honor to share the spirit of Pushkin with others in this way, and to raise awareness and money for the humane organization that first brought the two of us together.
It also was great to finally meet CBS's NCIS cast member Pauley Perrette: NCIS has been so kind to include Pushkin in the show over the years, since his "debut" on the Thanksgiving episode back in 2009. (Look for pictures of him in McGee's and Ziva's cubicles.)
Related posts: