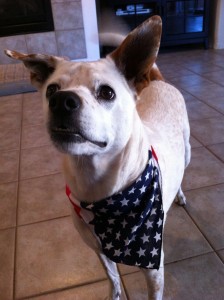 Happy 7th Birthday, Galileo!
Our darling "fluffer nutter" Galileo has peanut butter-colored freckles as plentiful as the stars of the constellations, but early on I decided on this story:
Once upon a time, in heaven, a bunch of angels were huddled together. The angel Galileo approached them to find out what all the buzz was about.
Someone explained: "There's a family down there for one of us. One of us is going to show up for them as a puppy."
Of course, this meant that whatever angel took on the job would have to leave behind his wings for a while. Galileo thought about it. He took a look at this family of four: he'd have a mom, dad, and two canine brothers.
Galileo volunteered. He was so excited, he started flying around in circles over and over again, just as he runs around and around today (always to the right). With great ceremony, Galileo's angel friends helped him remove his shimmery wings and hang them in the closet, where they wait for him. Then he became a puppy, covered in marshmallow-soft white fur; there's an iridescence to the fur — in the sunlight, you can see a rainbow of colors — that's a lot like his glorious wings.
Then, to say "farewell for now" and wish Galileo well, all the angels gathered around him and showered him with kisses. And they each left their mark – each of the hundreds of freckles, the kiss of an angel.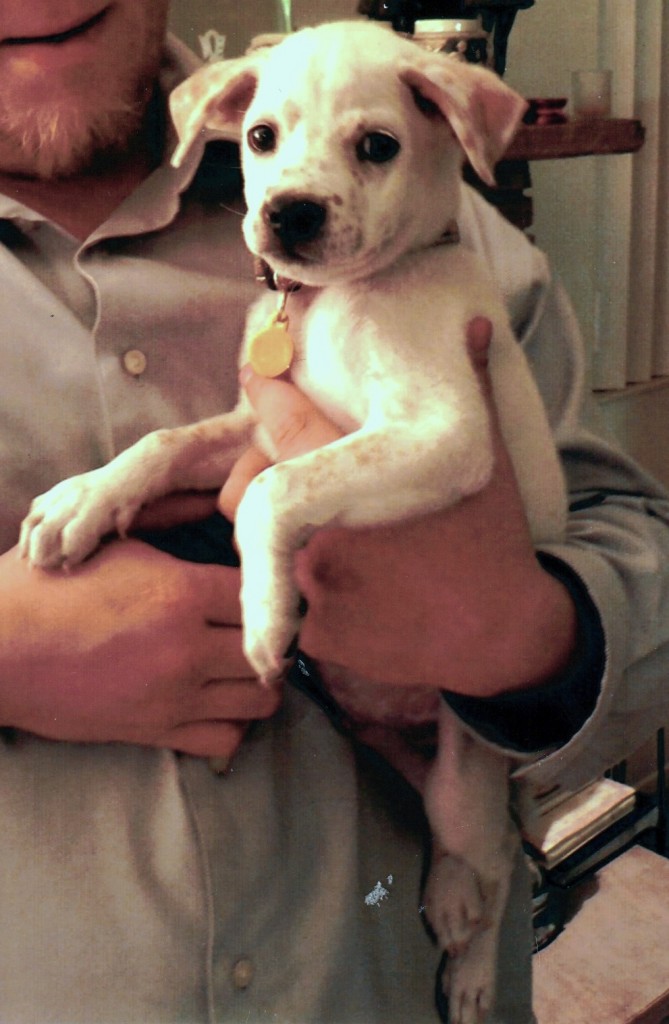 As we say in our home: another day, another gift. Today — every day — we celebrate Galileo and what a blessing it is to have him as part of our family. Thank you to Tucson's Foundation for Animals in Risk (FAIR), the foster/adoption organization that brought us together.
* * * * * * * * * * * * * * * * * * * *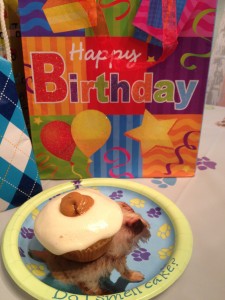 "Fluffer Nutter" Birthday Cupcakes
We nicknamed Galileo after the combination of marshmallow and peanut butter. So, today my six year-old nephew Nicky and I made vegan "Fluffer Nutter" cupcakes in honor of our birthday boy:
I wanted to use peanut-butter chips to more closely resemble his freckles, but there aren't any vegan ones available on the market yet. I found a simple recipe that combines peanut butter and vegan white chocolate chips (melt, pour into tray, cool, and cut). Maybe next year I'll give it a try.
As for tonight's birthday party… G's older brother Otis is the official host. Nicky has volunteered to help Galileo blow out the candles.
Related posts: