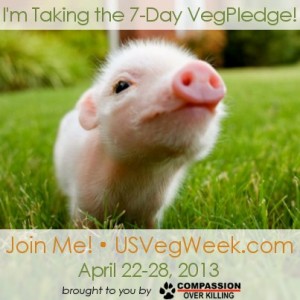 My friends at Compassion Over Killing are always up to great things, including encouraging people to make better choices on behalf of animals. There are 52 weeks in a year. Why not make one of them vegetarian? That's the idea behind US VegWeek, a nationwide campaign COK first launched in 2009, empowering thousands of people from coast to coast to pledge to choose vegetarian foods for at least seven days as a way to discover the many benefits and flavors of meat-free eating.
This year's US VegWeek, starting next Monday (Earth Day!), comes on the heels of a United Nations report urging the developed world to cut their meat intake in half in order to avoid continuing down a path leading to serious environmental damage.
It couldn't be easier to give meat-free a try and feel good about making choices that make a difference. US VegWeek provides a fun and supportive opportunity for pledgers to explore delicious meat-free meals while receiving support, recipes, and tips via its web site.
And you will hardly be alone in the adventure. In addition to the thousands taking the pledge this year, several cities and counties also have expressed their support for US VegWeek through official proclamations including Washington, D.C., Tucson, Arizona, Montgomery County, Maryland, and Charlottesville, Virginia.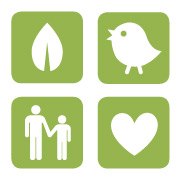 "Every time we sit down to eat, we can stand up for our health, the planet, and animals simply by choosing vegetarian foods," says COK's Executive Director Erica Meier. "And US VegWeek offers a fun and supportive way to get started."
So what are you waiting for? Take the pledge and enjoy being a part of this awesome nationwide event.
Related posts: