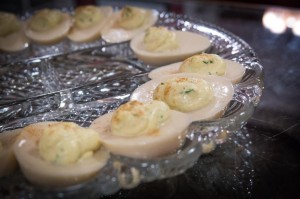 While I was in Los Angeles last month for The Genesis Awards, my husband Seth and I got together with friends Kezia and Gary for a wonderful dinner at their home. Kezia wowed us with these homemade vegan deviled eggs. As you can see in the picture, the resemblance to real deviled eggs is uncanny.
BUT the real wow was when I bit into one. The texture and taste is unbelievably spot-on. The "white" really is like an egg white in its consistency — I never thought I'd have that experience in my mouth again! Even more impressive: the taste of the "yolk" — the secret ingredient is the black salt. Kezia sprinkled some in the palm of my hand just so I could fully appreciate it. This salt tastes just like eggs. So, find it online or at a local Indian market and prepare to be amazed. We ordered the black salt as soon as we landed back in Tucson and my husband Seth made a batch of these "eggs" (success!) on Easter Sunday.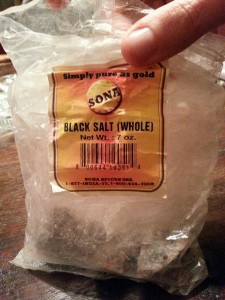 ingredients:
450 grams — about 2 cups — soy milk (unsweetened, unflavored)
2 tsp. agar agar powder
11/4 teaspoon black salt
215 grams tofu
2 tbl. Vegenaise
2-3 tbl. olive oil
1 tsp. mustard
1 tsp. white vinegar
3/4-1 tsp. black salt
1/2 tsp. tumeric
1/4 tsp. parsley (optional)
2-3 pinches curry (optional – but Kezia uses it, and it's delicious)
directions:
Whites: Combine soy milk, agar agar, and 1/4 tsp. black salt. Boil and pour into egg tray (using it as a mold); if you don't have an egg tray, you can use a cupcake pan and fill each one about 1/3 of the way. Once cooled (about 30 minutes in the fridge), you'll scoop out a bit of the center of each.
Creamy Yolk Filling: Mix remaining ingredients (including the remaining 3/4-1 tsp. black salt) in the food processor; using a pastry bag, pipe into the "whites." To finish, we sprinkled ours with paprika.
*Kezia credits La Gusta's as the basis for this incredible recipe.
Related posts: