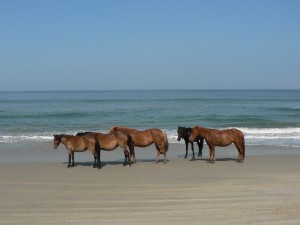 I just got back a few weeks ago from a family vacation to the Outer Banks of North Carolina. I'm happy to hear reports that the area made it safely through the holiday weekend's storm, and that both locals and tourists are once again enjoying the beauty of their surroundings.
The main goal of our trip to the Outer Banks was to witness the wild Colonial Spanish Mustangs that wander the beaches in Corolla, but it also was about spending some quality time together — lots of long walks with the pups on the beach in the cool summer evenings. And I couldn't resist the opportunity to strike an "Airplane" pose at the Wright Brothers National Monument. As always when visiting a place new to me, part of the fun is exploring local offerings for vegans and, when traveling with Otis and Galileo, a few spots that make family vacation extra fun for our canine kids. Here's what I discovered in the lovely First in Flight state: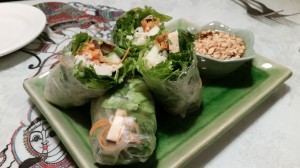 Thai Room (Kill Devil Hills)
This little unassuming place is a great inexpensive option for dinner. My husband Seth is pretty committed to trying a Pad Thai wherever it's on the menu (just make sure to let the server know you're vegan so that the kitchen makes it without egg and if used, fish sauce). I wanted something lighter than a curry (they offer red and green options), so I went with Vegetables with Basil, a nice assortment of seasonal vegetables with a very subtle sauce. Thai Room lets you choose just how spicy you want your sauce, whichever sauce you select. As an appetizer, Seth and I split the Summer Rolls, my favorite part of the meal here.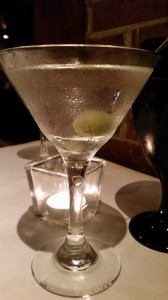 Ocean Boulevard Bistro & Martini Bar (Kitty Hawk)
I loved the vibe of this place and the Martini Menu can be a lot of fun for adventurous spirits (pun intended). When it comes to martinis, it's a rare indulgence for me and I like to stick with the simplicity of a vodka martini with one olive. Seth chose the Hot & Dirty, a mix of Absolut Pepper, Absolut Citron, and Chipotle Tabasco. This cocktail usually comes with a bleu cheese-stufed pepperocini, so Seth asked them for three plain olives instead. A great thing about this place is that they have a full separate Vegetarian Menu, though you have to know to ask for it. The menu here is seasonal, so it will change.
Unfortunately, on the night we visited (when we made our reservation, we gave them a heads up that vegans were coming), there wasn't anything vegan on the vegetarian menu, and the selection consisted of items that were very tough for a busy kitchen to tweak. To their credit, after some going back and forth, the kitchen managed to put together a nice starter salad of seven lettuces with carmelized grapes in a creamy pistachio dressing. As an entree, they were able to tweak one of the vegetarian options: a braised ivory lentils and trumpet mushroom dish, with some olives and shaved fennel, served with a lemongrass tahini sauce (on the menu, served with a cucumber mint tzatziki). I recommend this lovely dining spot but with the strong suggestion that you let the staff know ahead of time about your vegan needs and asking specifically what they will be able to offer. I also encouraged the manager while I was there that, since the restaurant already has a separate vegetarian menu — which is awesome! — it would be terrific to always include at least one item in each category that is vegan-friendly. I'm hoping that if more people request the same, we'll see it happen sooner than later.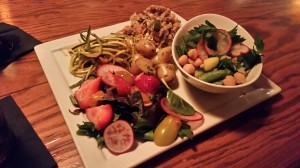 The Blue Point (Duck)
This upscale waterfront dining spot is not ostensibly vegetarian/vegan friendly. However, it came highly recommended by a local vegan who assured us that the creative kitchen, known for high quality cuisine, would rise to the occasion if they knew we were coming. So we made our reservation with a promise that the chef would put together a special vegan plate for us; and when we arrived, we quickly settled into our cozy seats in the midst of a lively crowd of diners, waiting to see what would come our way. The kitchen did not disappoint: a beautiful array of foods, taken from different aspects of the current seasonal menu, provided a range of tastes — my favorite on the plate was an innovative tabbouli salad that included roasted corn and bits of roasted zucchini.  And simply because we're still on a kimchi kick, Seth and I ordered a side of the Kimchi and Soba Noodles. A nice romantic dinner for two.
Bad Bean Baja Grill (Kill Devil Hills)
Another inexpensive dinner (or lunch) option, and I also would highly recommend this casual dining place if you're traveling with kids. This local Mexican restaurant offers three kinds of homemade salsas to choose from with your starter tortilla chips, ranging from mild to habanero-hot. For vegans, the most obvious choices on the menu are the Cali Burrito and the Tacos that both come with marinated tofu. Seth and I both went with the Burrito. I added guacamole to mine and finished feeling satisfied without being overstuffed. While I typically stick with mild sauces, Seth is usually quite adventurous. I'll warn you that he decided to go with the "medium" jalapeno salsa in his burrito and found it quite spicy… which is saying something. I'm guessing the habanero-hot might be for just a chosen few. Also, the Cali Burrito comes in a larger 15-inch tortilla size for those of you who are a little extra hungry.
Outer Bean Juice & Java (Kitty Hawk)
So we'd just finished up walking around the Wright Brothers National Monument on a rather hot and muggy morning. We were looking for someplace cool to recharge and grab a little lunch before heading to the beach (dolphin sightings off shore, so awesome!). We got so lucky when we stumbled upon this cozy cafe that serves up locally-sourced foods for breakfast, lunch… and now dinner, too. With just a few tables, Seth and I sat at the long wood counter that runs the length of the cafe, making it easy to carry on conversations with the owner and couple of young servers as they prepared various smoothies and dishes. The menu has a number of vegetarian/vegan salads and sandwiches: I enjoyed the Vegan Salad — eggplant, squash, romaine lettuce, spinach, Coastal Farmers Co-op weekly greens,  grape tomatoes, cucumber, raisins, craisins, shredded carrots, beets, onions, celery and sunflower seed with balsamic vinaigrette; Seth had the Vegan Panini, a combination of spinach, kale, squash, eggplant, roasted red pepper, hummus, and olive tapenade on focaccia bread. If I'd had the chance to revisit, I would have tried the Mushroom Salad, which can be veganized easily by holding the cheese.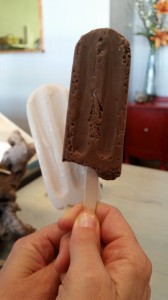 Zen Pops & Kind Confections
Oh, THIS place is the find — the ultimate fave — of the trip! More specifically: the "Sammie." Zen Pops offers an assortment of vegan frozen desserts on a stick, but the coconut-milk ice cream sandwiches are pure bliss. Two coconut cookies with vanilla ice cream between them AND the outer edge rolled in salted pistachio nuts. WOW! The sweet and salty combination really is something… and it's a good thing that Zen Pops is miles away from home or else I'd probably become as round as a Sammie in no time. That said, the popsicles are pretty fantastic, too. We tried the Chocolate Sea-Salt (again, sweet and salty combo is amazing) and a delicious Coconut Lime. Owner Crystal also gave us a sample size Strawberry Lemonade that turned out to be my favorite pop of all: what makes it so great is that the homemade lemonade features a combination of rosemary, thyme, and mint — an unusual and delicious surprise for the taste buds.
In addition to these wonderful desserts by Zen Pops, don't miss out on the creations by Kind Confections available in this co-op shop: frozen vegan cookie dough bites!
Kill Devil's Frozen Custard and Beach Fries
As silly as it sounds, this lunch was one of our favorite meals while on vacation. This roadside burger hut looks like it may have been an old Dairy Queen — the barn-like facade, with just a few picnic tables out front, and its menu of burgers and frozen custard clearly is not geared towards the vegetarian/vegan crowd. And yet,  rather than relying on frozen patties coming out of box, this spot offers a veggie burger (vegan) that  is a delicious blend of rice and beans, some veggies, and pieces of fresh onions and garlic. The burger also is substantial, especially once they top it with lettuce, tomato, and pickles; so you will finish with a very full and happy tummy. The fries are fresh, hand-cut, and served hot and crisp. Make the stop: you won't be disappointed.
Tropical Smoothie Cafe (Nags Head and other locations)
We actually discovered this ideal lunch place while still on the road (Virginia Beach, I think), but there are several locations in the Outer Banks area. There's a Hummus Wrap on the menu, but there are also two chicken wraps — the Jamaican Jerk and the Thai — that Tropical Smoothie will make using the awesome vegan Beyond Meat. The Jamaican Jerk Chicken Wrap was too good to pass up — vegan Jamaican, even back home in NYC, isn't the most readily available. It was a little spicier than my usual choices, but SO good.
Roadside Bar & Grill (Duck)
OK, so this place is not vegetarian/vegan-friendly (yet), though there is a hummus appetizer on the lunch menu and I'm told, depending on how busy they are in the evening, the kitchen might make it for you in the evening if you stop for dinner. But if you're looking for a local bar to just sit and have a drink during your stay, this place has a certain charm. Seth and I enjoyed sitting out front on the porch, where there are stools and a slim countertop, sipping prickly-pear margaritas and enjoying a fantastic thunderstorm.
For the Pups:
Salty Paws Biscuits (Duck and Nags Head)
A Biscuit Bar. Need I say more?
Holistic Pet Shop (Kill Devil Hills)
The perfect place to stock up on some wholesome snacks for the road trip back home.
Outer Barks (Duck)
The store features all kinds of goodies for dogs and cats. I'm disappointed we didn't make it to the "Yappy Hour" here, held on Thursday evenings during the summer months: in addition to the complimentary Doggie Daiquiris, Puppy Casserole, Agility and Pools, there's paw-print painting (think, finger-painting for canine kids) for a $5 donation to the Friends of Pooh Canine and Feline Cancer Fund.
Next week: some really fun faves I found on the road between NYC and NC in Delaware and Maryland.
Have you seen my new book, Stellar Vegan Salads yet?
Available now on Amazon and also for your iPad.
Check out sample pages and order your copy today!
Related posts: